Vol. 27 (2017)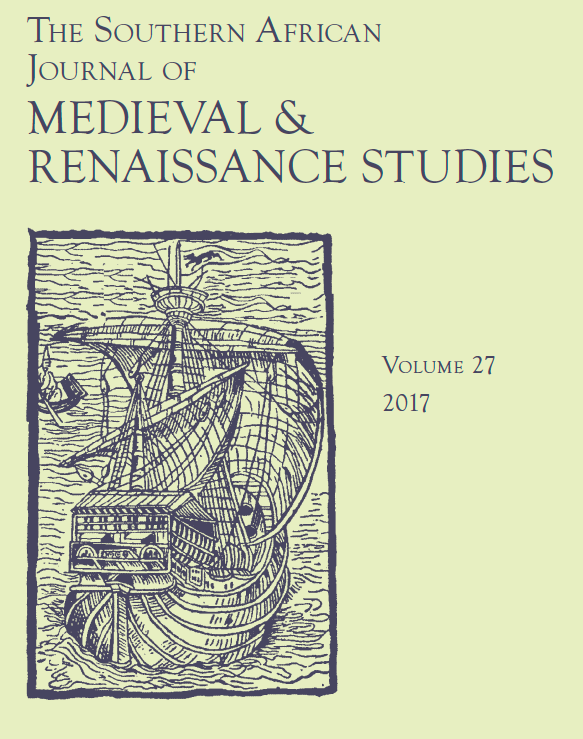 Permanent URI for this collection

This volume of the journal of the Southern African Society for Medieval and Renaissance Studies is as diverse as ever. Readers of the journal will be familiar with the work of Catherine Addison, who has been a regular contributor to the journal. Her article on 'Chamberlayne's Pharonnida: The First English Verse Novel', published in volume 25, prefigured the appearance of a monograph in 2017. In this volume she argues that the sonnet form itself, following Petrarch, embodies the theme of death.

Two articles emanating from the Byzantine research unit at the University of Johannesburg were published in volume 25: Savvas Kyraikidis on Demetrios Kydones (1324–1398) and Effrosyni Zacharopoulou on the black St Maurice of Magdeburg and the Christian kingdoms in Nubia and Ethiopia in the thirteenth century. Now we have an article by the head of that unit, Benjamin Hendrickx, along with Thekla Sansaridou-Hendrickx, on the Duchy of Naxos in the Aegean. The authors discuss the transition from the Venetians and Franks to Ottoman rule in the sixteenth century, and especially the role of the enigmatic Duke Joseph Naci.

Amritesh Singh's article offers an intriguing analysis of gender issues in John Lyly's Gallathea (1592), referring to representations of the myth of the judgement of Paris in paintings by Lucas Cranach the Elder and Hans Eworth. He argues that John Lyly's treatment of masculinity and female authority makes him the ideal male subject of Queen Elizabeth I.

This volume marks a departure from earlier volumes by including a short piece of historical fiction by Eugenie Freed, well known for her treatment of women authors in the English Renaissance. Here she tells the story of Marguerite de Porete, the medieval French mystic who was burnt for heresy but now ranks among the classics of Western spirituality, from the point of view of her defender Guiard de Cressonessart.

News

CONTENTS

RESEARCH ARTICLES

CATHERINE ADDISON • Death and the Sonnet

BENJAMIN HENDRICKX AND THEKLA SANSARIDOU-HENDRICKX • The State of the Duchy of the Archipelago (Naxos) during the reign of Joseph Naci and his locotenente Francesco Coronello, 1566–1579

AMRITESH SINGH • The Queen's Two Bodies and the Elizabethan Male Subject in John Lyly's Gallathea (1592)

HISTORICAL FICTION

EUGENIE FREED • Philadelphia